Lego Based Therapy is a fun and motivating therapy programme for school-aged children that targets a range of areas of language and communication.
What is LEGO®-Based Therapy?
LEGO®-Based Therapy (also referred to as LEGO® Club) is a social development treatment program for children and teenagers diagnosed with Autism Spectrum Disorder (ASD) and other social communication impairments (LeGoff et al., 2014; Raising Children Network, 2018). The program is a non-traditional intervention that uses items of interest (Lego®) to achieve learning (i.e. progress in social and communication skills development) (LeGoff et al., 2014). LEGO® offers children and teenagers with a motivating, safe and engaging opportunity to participate in group activities with peers.
Who can participate in LEGO®-Based Therapy?
LEGO®-Based Therapy is suitable for an organised pair/group of children aged 5-16 years (primary school and high school aged) with similar diagnoses including ASD, other social communication difficulties, and mental health disorders (e.g. anxiety conditions and depression) (Andras, 2012; LeGoff and Sherman, 2006; Owens et al., 2008; LeGoff et al., 2014).
What happens in LEGO®-Based Therapy?
At Hills District Speech Therapy, LEGO®-Based Therapy is delivered in two primary modes:
Collaborative building in pairs (2 children)
Collaborative building in groups (3 or more children)
In both modes of therapy, the task of building with LEGO® is divided into interconnected roles and the interaction is closely supervised and coached by one or more of our speech pathologists. Group participants are allocated one of the following roles: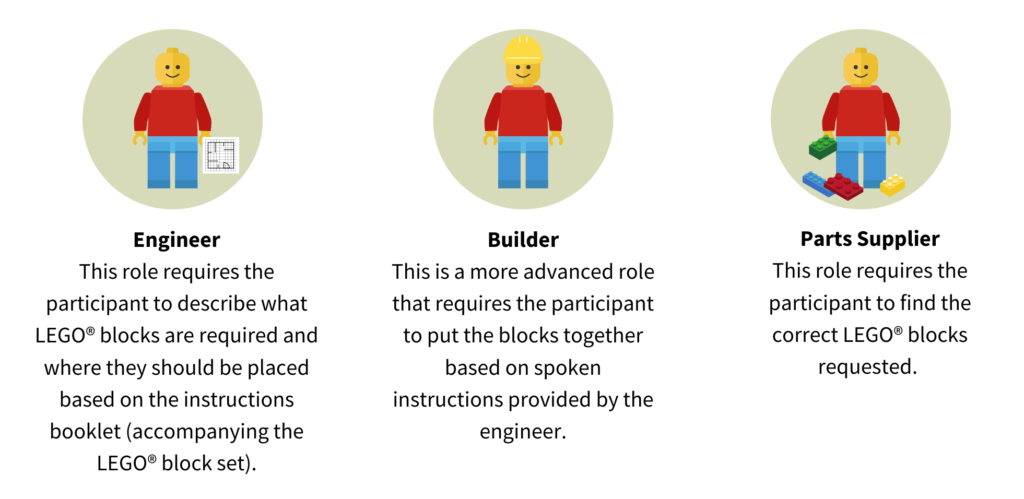 Lego Club sessions usually start with greetings, updates from peers and some conversation (with prompting from the clinician where required). With time, participants spontaneously and naturally engage in greetings before commencing therapy. Soon after, the participants and clinician decide what LEGO® project they would like to complete, and then roles are assigned by the group leader. For newer participants and those still developing their skills, roles are played out during 'set-building' where they are required to follow instructions contained in LEGO® sets. Overtime, participants can engage in 'freestyle-building', allowing them to build their own designs (LeGoff et al., 2014).
Does LEGO®-Based Therapy work?
There is an increasing amount of research reporting improvements for children with diagnoses of ASD or social communication impairments that participate in LEGO®-Based Therapy. These include:
Increased self-initiation of interactions during free play with peers (LeGoff, 2004)
More sustained social interactions outside of LEGO®-Based Therapy sessions (LeGoff, 2004)
Observed reductions in fixed interests and repetitive behaviours (LeGoff & Sherman, 2006)
Improved social communication and reduced inappropriate behaviours (Owens et al., 2008)
Emerging evidence of improvements across communication competencies (including social skills) when adapted for Augmentative and Alternative Communication users (Gough & Dutton, 2018)
Improved social and family relationships and increased social play (Lindsay et al., 2016)
More high quality research into LEGO®-Based Therapy and outcomes for children with different diagnoses is however still needed.
What basic skills are required for LEGO®-Based Therapy?
The following skills are important to ensure participants in therapy are able to participate in the higher-level tasks involved in LEGO®-Based Therapy. At HDST, all clients are screened for suitability to ensure they can successfully participate in group therapy.
Sit in a chair for a period of time
Understand and respond to spoken instructions and non-verbal cues (e.g. pointing)
LEGO specific skills, including:

Categorising LEGO blocks according to colour, size and shape
Locating LEGO blocks using pictures and verbal descriptions
Assemble blocks together (fine-motor activities)
Follow verbal instructions and those provided using visuals
Evaluate a completed LEGO set including looking for and correcting mistakes
Engaging in respectful and calm behaviours, and being cooperative in group settings
Follow routines and appropriate waiting
Ability to understand and use language (verbally and/or non-verbally) with peers
References
LeGoff, D.B., Gómez de la Cuesta, G., Krauss, G.W., & Baron-Cohen, S. (2014). LEGO®-based therapy: How to build social competence through LEGO®-based clubs for children with autism and related conditions. London: Jessica Kingsley Publishers.
Raising Children Network (2018). Lego® therapy: Therapy at a glance. Retrieved from: https://raisingchildren.net.au/autism/therapies-guide/lego-therapy
Andras, M (2012). The value of LEGO® Therapy in promoting social interaction in primary-aged children with autism. Good Autism Practice, 13, 2,  2012.
Owens, G., Granader, Y., Humphrey, A., & Bohen-Cohen, S. (2008). LEGO® therapy and the social use of language programme: An evaluation of two social skills interventions for children with high functioning autism and Asperger syndrome. Journal of Autism and Developmental Disorders, 38, 1944-1957. doi: 10.1007/s10803-008-0590-6.
LeGoff, D (2004) Use of LEGO as a Therapeutic Medium for Improving Social Competence Journal of Autism and Developmental Disorders 34 (5), 557–571.
LeGoff, D.B., & Sherman, M. (2006). Long-term outcome of social skills intervention based on interactive LEGO® play. Autism, 10(4), 317-329. doi: 10.1177/1362361306064403.
Gough, S., & Dutton, N. (2018). The novel use of LEGO®-based therapy to develop communicative competence in children who use augmentative and alternative communication (AAC) systems. The 9th Annual Conference of Association for Simulated Practice in Healthcare, Liverpool, United Kingdom. https://doi.org/10.1136/bmjstel-2018-aspihconf.1
Sally Lindsay, S., Hounsell, K. G., & Cassiani, C.(2017). A scoping review of the role of LEGO® therapy for improving inclusion and social skills among children and youth with autism. Disability and Health Journal, Volume 10, Issue 2, https://doi.org/10.1016/j.dhjo.2016.10.010.